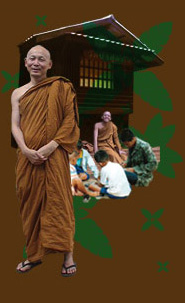 Phra Paisal Visalo, or Paisal Wongworawsit (ไพศาล วงศ์วรวิสิทธิ์) as his former name, was born in Bangkok on 10 May 1957. He finished his high school from Assumption College and graduated his Bachelor degrees in History from the Faculty of Liberal Arts, Thammasat University.
Phra Paisal Visalo was interested in Politics in Thailand. While he was a high school student, he joined the political demonstration that lead to 14 October 1973 Revolution. But later on the Massacre 6 October 1976, Phra Paisal participated in the hunger strike as a non-violent resistance's political tool to protest the Government at that time.
As a result of that he was arrested in Thammasat University by the police and sent to jail for 3 days. After being released from the jail, Phra Paisal started to work for the Coordinating Group for Religious in Society from 1976 to 1983. His responsibilities were mainly focused on human rights to give consultations to political prisoners. His work had a great impact and success renowned around the world when the Government announced the Amnesty Bills to release 3,000 defendants of the Massacre 6 October 1976.

After working for CGRS for more than 7 years, which he joined since he was a sophomore at the University till his graduation, Phra Paisal nevertheless suffered from mental stress. Therefore, he wished to temporally withdraw from the social work by becoming a monk, first intention to be in a monkhood only for 3 months. But it seemed his practice in Dharma has been progressed and developed distinctively and he had deeply faith and belief in the Buddhism. Phra Paisal decided not to leave his monkhood and unitl now it is in his 31st years.

Phra Paisal Visalo was ordained in 1983 at Wat Thong Noppakun in Bangkok. He learned the meditation from Luang Por Tean Jittasupo at Wat Sanam Nai , before moving to Wat Pa Sukato, Kangkro, Chaiyaphume. There Phra Paisal learned Dharma and meditation with Luang Por Kam Kean Suwanno whom he met 3 years before as a social worker and gave assistance to Luang Por Kam Kean for his community development project.

At present, Phra Paisal is the Abbot of Wat Pa Sukato but he mostly stays at Wat Pa Mahawan (Phu Long) to help, protect, and preserve the forestry.